Viva Smile Dental Blogs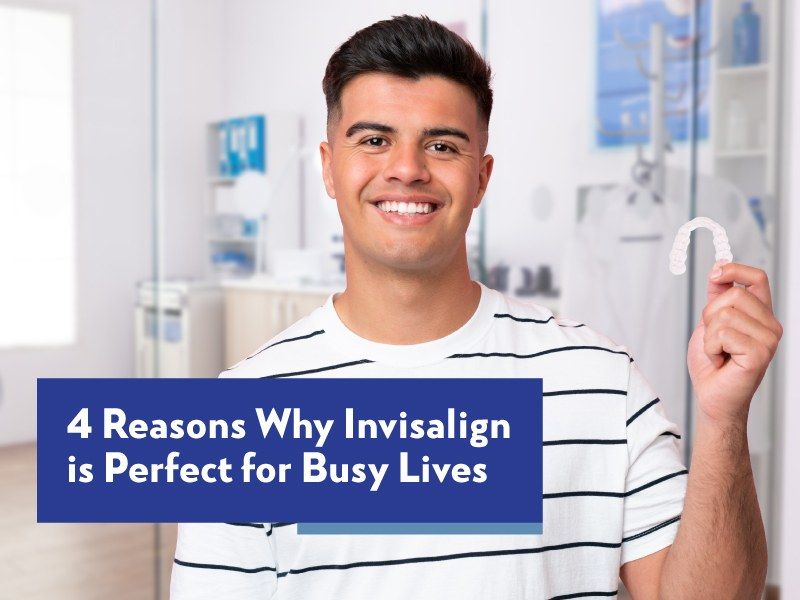 4 Reasons Why Invisalign is Perfect for Busy Lives
Invisalign is an innovative orthodontic treatment that uses a series of removable and clear aligners to straighten teeth. The invisible aligners are molded to fit your teeth and gradually move them into their desired position. Taking care of your smile should be relatively easy and convenient. That's why more and more people in Los Angeles are turning to Invisalign to achieve straight teeth without compromising their lifestyle. Here are four reasons why Invisalign is perfect for busy lives.
Convenience:

Invisalign aligners can be removed when eating and drinking, so there's no need to worry about food getting stuck in wires or brackets. This benefit makes it incredibly helpful for those with hectic schedules, as they don't have to take extra time out of their day to plan meals. Additionally, Invisalign can be the ideal solution when you only have a few extra hours to devote to orthodontic appointments. Invisalign treatment is done every 6 to 8 weeks, taking less than an hour for each visit.

Comfort:

Invisalign are teeth aligners made of smooth, flexible plastic molding to your teeth, making them much more comfortable than traditional braces. You can wear your aligners all day without worrying about discomfort or pain in your gums. Without the aches of conventional braces, you can focus on important tasks and enjoy wearing aligners that don't disrupt your lifestyle.

Efficiency:

Invisalign orthodontics treatment is much faster than traditional braces, with many cases taking as little as 6-15 months. This means those with busy lives can still have the straight smile they've always wanted in a much shorter time.

Aesthetics:

The importance of Invisalign lies in its ability to provide a safe and effective way to straighten teeth while avoiding the embarrassment associated with traditional braces. Invisalign aligners look almost invisible and can be taken out for special occasions and so on. Although they should be worn for at least 22 hours daily, you won't have to worry about them showing while you speak, smile, or pose for photos.
Ultimately, Invisalign is the perfect choice for busy people who want to fix misaligned or crowded teeth without taking away from their active lifestyle. With convenient, discreet and comfortable wear, it's easy to see why Invisalign is the ideal choice for people with busy lives.
If you're looking to start your Invisalign in Van Nuys or Granada Hills, we invite you to visit Viva Smile Dentistry and meet Dr. Gohar Hovsepyan, a Board Certified Orthodontist and Platinum Invisalign Provider in Los Angeles. With over a decade of experience, she achieves outstanding Invisalign orthodontics treatments with accurate prediction. Call our team now and schedule your first appointment to start your Invisalign journey!