FULL PORCELAIN CROWNS SPECIALIST
Several types of dental crowns exist, made from different materials to protect and cover your damaged teeth. However, no other dental crown gives you the natural resemblance of your teeth like full porcelain crowns. At Viva Smile in Van Nuys and Granada Hills, California, Gohar Hovsepyan, DDS, and Káren Baghdasaryan, DDS, MBA, AAACD, AFAAID, provide full porcelain crowns to their patients, restoring their smiles and confidence. To schedule an appointment, call Viva Smile or use the online booking tool today.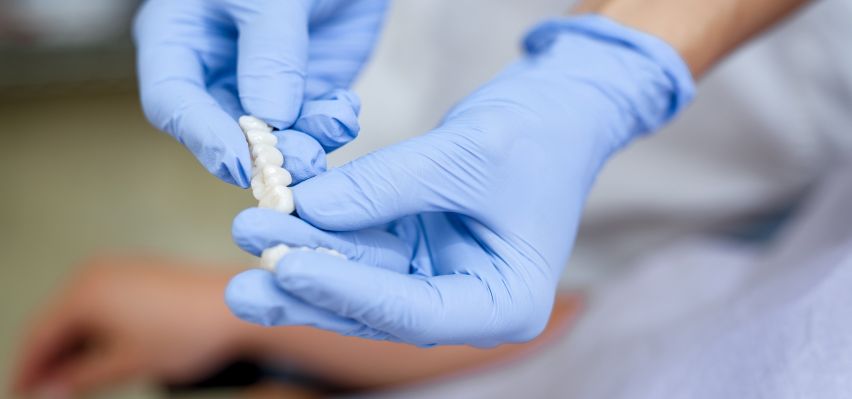 What are full porcelain crowns?
Crowns consist of a cap that resembles a tooth that is designed to protect and cover damaged teeth. Though these can be made from several materials, such as metal, resin, ceramic, and porcelain, crowns provide you with the most natural-looking option to cover damaged teeth.
Viva Smile provides its patients with the utmost care, offering full porcelain crowns to treat dental complications and restore your smile. Due to its natural appearance and reduced sensitivity, patients who are looking to improve their smile and treat damaged teeth are choosing to receive full porcelain crowns for their front teeth restorations.
What are the benefits of full porcelain crowns?
As a popular choice for dental restorations, porcelain crowns provide several benefits. These benefits include:
Transparency, resembling a natural tooth.
Metal-free, avoiding allergic reactions.
High biocompatibility.
Less sensitivity.
Easy alignment and form correction.
Suitability for patients who have reduced space in their mouth.
Though full porcelain crowns are the only crown that gives you such a natural appearance, it's important to note that they're typically not recommended for restoring a back tooth.
This is because full porcelain crowns are less durable than other dental materials. Since your back teeth experience more trauma from chewing and grinding your teeth, these veneers are vulnerable to breaking and cracking when placed in the back of your mouth.
Why do I need full porcelain crowns?
Porcelain crowns are a great option for patients seeking to restore a damaged tooth or damaged teeth in the front of their mouth, or cosmetically enhance their smile.
You could benefit from a full porcelain crown if you have dental complications such as:
Broken or fractured teeth.
Decayed teeth.
Fractured fillings.
Large fillings.
Root-filled teeth.
If you have a tooth or teeth that are physically painful or cause you to feel insecure because of their appearance, visit Viva Smile to receive full porcelain crowns and restore your smile today.
What is the procedure for full porcelain crowns?
When you come into Viva Smile to receive full porcelain crowns, your dentist examines and prepares the tooth or teeth that need the crown. Typically, you'll receive X-rays to diagnose and determine the proper fit of the dental crown.
After this, your dentist files down and removes part of the outer layer of your tooth, followed by taking an impression of your treated tooth and your surrounding teeth. Usually, you'll need a temporary crown placed over your tooth to protect it while your dentist prepares your crown. This may take several weeks.
When the crown is ready, you'll return to Viva Smile for your second visit so your dentist can permanently fix the crown to your natural tooth. Be sure to pay careful attention to your crowns. Brush and floss daily to prolong their life.
To find out if full porcelain crowns are the right option for you, call Viva Smile or use the online booking tool today.
Before & After
Gallery
View Smile Gallery