LASER DENTISTRY SPECIALIST
With the dentistry field constantly advancing, patients can access innovative services to treat their dental issues. Laser dentistry is a product of the latest technological advancement in dentistry, allowing patients to receive the efficient and effective care that they deserve. At Viva Smile in Van Nuys and Granada Hill in Los Angeles, California, Dr. Gohar Hovsepyan, DDS, and Dr. Káren Baghdasaryan, DDS, MBA, AAACD, AFAAID, offer laser dentistry to their patients as a quick and painless alternative to traditional dental treatments. To learn more about laser dentistry, call Viva Smile to schedule an appointment or use the online booking tool today.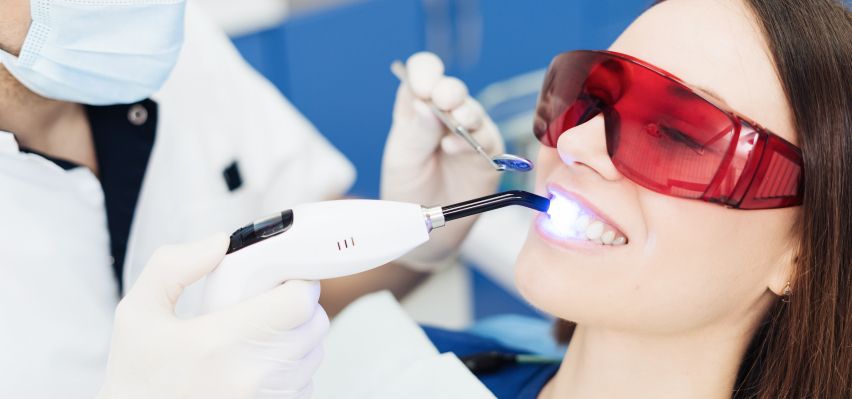 What is laser dentistry?
Laser dentistry is a method that uses focused laser beams instead of the conventional dental drills. It can be used to treat various dental and periodontal conditions. The dentistry field is constantly evolving, creating new and efficient ways to treat dental complications, reduce pain, eliminate bacteria and perform procedures with a high level of accuracy.. Approved by the Food and Drug Administration (FDA) as a treatment option for many dental conditions, Viva Smile offers laser dentistry as an alternative to drills and other non-laser tools. Using lasers to treat various dental conditions provides patients with a more enjoyable experience when receiving treatment for tooth and gum concerns.
What can laser dentistry treat?
At Viva Smile, you can access several treatments for common dental needs using laser dentistry. Our dental laser can aid in many dental treatments including:
Treating tooth decay/cavities
Treating hypersensitive Teeth
Treating gum disease
Ulcers and canker sores
Root canal therapy
Filling and crown placement
Oral surgery of gum and/or bone
Viva Smile uses the Solea Dental Laser to identify cavities in their earliest stage of development, leading to highly efficient and effective treatment. We can also use the dental soft tissue laser to cut and shape problematic soft tissue and treat gum disease.
What are the benefits of laser dentistry?
Laser dentistry is a novel form of dental technology that allows patients to receive the treatments they need without the discomfort, expense, and inefficiency of regular dental drills. Additional benefits of laser dentistry include:
Less invasive procedures
Minimized soft tissue bleeding
Less damage to surrounding tissues
Some procedures don't require anesthesia
Decreased chance for bacterial infections
Faster healing time
What should I expect from a laser dentistry appointment?
When you come into Viva Smile for laser dentistry, Dr Baghdasaryan will discuss your dental needs and medical history. They may use a laser to identify hard tissue complications or find early evidence of tooth decay and detect cavities. In treating these issues, the laser will also kill bacteria, eliminate the need for local anesthesia and promote the long-term health of a tooth. If you have sensitive teeth, you can receive treatment with dental lasers to seal tubules on the root of your tooth, significantly decreasing your sensitivity to hot and cold.
Laser dentistry may also be used to reshape your gum tissue and other soft tissue in your mouth. This can be done to treat a gummy smile, in which the length of your gums covers a generous amount of your teeth. With laser dentistry, you can also receive crown lengthening to ensure your dental crown fits firmly, tongue frenulum attachment treatment to loosen the fold of skin under your tongue that anchors to the mouth floor, and soft tissue folds removal to get free of ill-fitting dentures. To learn more about laser dentistry and how it can benefit you, call Viva Smile to schedule an appointment or use the online booking tool today.
Before & After
Gallery
View Smile Gallery